VIP Client Story: Richard Devine Interview
Richard Devine is a recording artist and sound designer based in Atlanta GA. On February 1st 2012 he released RiSP on Detroit Underground records. Which is his 5th full length album. He has released music on Schematic, Warp, Asphodel, and Sublight records and has performed his own ear-tearing music mayhem worldwide.

He recently signed a deal with Sony Media to release his first two premium sound effects libraries, "Pulse" and "The Electronic Manuscript" which won best sample library by the Remix Technology Awards. Following the success of these new releases Richard launched a new sound design company "Devinesound" which was nominated the Cannes Lions Award for the work with Microsoft Gaming division for the Halo Believe Campaign. In 2010 he worked for Microsoft in designing the Windows 7 Theme system sounds for Epic and Bungie creators of the video game"Gears of War". Most recently Richard released "Mechanical Morph" sound effects collection with Hollywood Edge/Sound Deluxe. This immense collection containing over 1300 new sounds designed for film, TV, and multimedia projects has won him world wide recognition as one of the most cutting edge sound designers today.

His work has done film score work for Touchstone Pictures (with John Hues & Kyle Cooper). He has also collaborated with BT (Brian Transeau on movie "Surveillance" Directed by Adam Rifkin, Wieden & Kennedy, AKQA Inc., and have done sound mangling/programming for Trent Reznor of Nine Inch Nails, composed and designed commercials for the Nike Shoe Company and worked with various companies doing sound design for Apple Computers, Audi, BMW, Ford, Lincoln, Mercury, Scion, Coke, LandRover, Lexus, Peugeot, Dodge, HBO, Nestle, Nike Japan, McDonald's, Sprite, Sony, Spike Television network and XBOX (Halo2 and 3 for Microsoft International Websites. He has also worked with Konami gaming division for the Dance-Dance Revolution game.

In conjunction with TV and film work Richard also has done synthesis programming and sound design work with some of the biggest audio companies in the world. His work has been featured on new software and hardware titles from many innovative companies such as: Alesis, Access Virus Keyboards, Akai, Ableton Live, Apple Computers, Arturia, CamelAudio, Native Instruments, Izotope software, WayOutware Softare,Eventide Effects Company, GRM tools, Korg, Clavia Nord, DigiDesign, Openlabs, Universal Audio, Hartmann Neuron synthesizers, Stanton Magnetics DJ Company, Spectrasonics, Roland, Propellerheads, Yamaha and M-Audio Division.
General
You are known as one of the most influential sound-designers in the world, as well as an incredibly innovative artist/composer/producer.  When working on your own artist material, how do the lines between sound-design and composition get blurred?
Well, I have always thought my music was more sound design driven. I love combining the organic sounds of nature and processing them in unusual ways to get something new. I draw lots of inspiration from my field recordings which can be of many different things, animals, insects, machinery, and unusual spaces. I have been recording and collecting sounds for almost 15 years now. I have built up a large collection of different sounds that I have used on my albums and projects. I love taking the field recordings and layering/combining them with computer generated synthesized sounds. Fusing both worlds into one composition for me is really interesting as you come to places you wouldn't normally experience within a musical composition. I will usually pull out the most interesting bits from my recordings then import them to the computer for clean up. I might do some light processing and then will meta tag, and save them into different folders to use for either my design projects or for my own music. I tend to keep separate drives for different projects. So things that get used in music tracks will get saved into another cloud drive server I have setup here at the studio. I try to be really organized so that I can search my library databases quickly to recall any sound if needed for a session.
What were some of the most enjoyable moments or projects in your long and diverse career? What was special about them?
Wow, this would be a difficult question to answer. I have had so many cool projects over the years that where really fun and challenging at the same time. It's a bummer because I am still under an ongoing NDA with many of them. I say looking back there where a few things that where big turning points for me. One was working with Native Instruments. I was asked to create some of the first patches/presets/sample libraries for the releases of Absynth, Kontakt, Reaktor, and Battery instruments. It was an interesting situation because I started working with NI right at the beginning so I was sort at the right place at the right time. Everyone was looking at virtual instrument technology at this time, and NI just released the virtual version of the famous Prophet-5 synthesizer. It was such profound release as many people where skeptical at the time. Lots of interests started to build after that point. I was able to make an introduction as a sound designer at that time with my sounds and programming and lots of other companies started to take notice. I soon started working designing sounds and patches for many other companies after that point. Everyone from Apple, to Sony, to Roland now wanted sounds for some new project or product.

I would say other memorable moments where remixing Aphex Twin's "Come To Daddy" for Warp Records 10 year anniversary release. I was also quite honored that Warp released my first full length album. It was a dream of mine to be on Warp records. I never thought that many years later they would be the very label that would put out my music to the world. I had done many tours and shows with them, over the years. I am truly thankful I had the opportunity to work with them and it opened a lot of doors for me.
Any cool upcoming projects coming up that you care to share with our readers?
Well I just finished releasing my first physical modeled sound bank for Applied Acoustic Systems. It's called "MicroSound Textures". All of the sounds are based and programmed from the Chromaphone physical modeling synthesizer, but can be also used with the free AAS player. There is 128 sounds in the collection, which span into universe of particle based pads, atmospheres, modeled percussion, and strange sound effects. I also recently worked with Air-Music-Technologies Vacuum Pro and Loom Modular Additive Synthesizer instruments. I created over 100 sounds for each instrument. I have also been working doing design for many iOS music applications. Most recently, I released my first sound bank for Moog's Animoog app and Waldorf's Nave wavetable synthesizer. I love working with new synthesizer technologies and sound design tools.

As for hardware synthesizers I just started working on a project for Clavia for the new Nord Lead 4 synthezier. I also worked with Dave Smith Instruments creating over 40 new patches for the Prophet 12. Another project I released earlier this year through Elektron Machines was my own personal sound bank for the Analog-4. In this bank I created over 128 abstract sounds that took advantage of the Analog Four's extensive modulation capabilities. This bank has now become the factory loaded bank that will ship for all new machines.

As for non music instrument design based stuff I have just finished working on two video games. One of which was doing sound design for the Wofenstein video game "The New Order, with my good friend Mick Gordon. I was asked to create an entire world of new sounds based on resonant bodies, objects, gongs, different sheets of metal. I was using lots of interesting devices for the library. One of them was a Electro Lobotomy percussion box, which utilizes these metal bars that can be used as triggers and resonating rods that can be processed through different effects to get really interesting impacts - video link here. I also used the Metallik Resonator Speaker. The design was inspired from the Resonateurs Métalliques from Ondes Martenot. There is a vibrating amplifier (sound excited transducer) that will accept any line signal. I was recording all sorts of sound effects and running the modular synthesizer through it to create eerie beds and drones for the game. I also just finished working on the new "Dying Light" game in which I was creating synthetic granulated impacts, low pitched atmospheres and synthetic swooshes/power up sounds. I used a completely different technique to generate these sounds. I used analog synthesis and the Intellijel Planar joystick controller to create the transformer like power ups and electrical dynamic sounds video link here. I also just finished working on two remixes one for Annie Hall on Detroit Underground Records and another for another group called bossFYTE.
Any other particular technologies or techniques, esoteric or otherwise, that you are really excited about these days?
I have been composing on the Eurorack modular quite a bit lately. So a lot of my recent productions have been built around the idea of creating patches and building a song out of a patch from the modular system. I have recorded almost 93 new tracks this past year. I have been really inspired by this new way of working. There isn't any computer or other hardware involved in the process. It's just building a patch from the ground up, and seeing what happens. It's a very organic way of working with sound and music. I was an early adopter of analog synthesizers back when I first started making music. I originally learned about how to shape sound on a Arp-2600 synthesizer which is a semi -modular format system with 66 patch points. That synth taught me a lot about how to modulate, envelope, color, and filter sounds. I have been doing a lot of beta testing and helping with design concepts for many different euro companies. It's been a lot of fun. I have been spending the last 6 years building up my system. My latest release on MakeNoise records called "Creature' was just released a few months ago.

It was recorded entirely on the MakeNoise shared modular system. The concept was that each artist was sent the same system, and was only allowed to use this system to record their compositions which would be later released on to a 7" inch limited edition record with patch notes on how the piece was created. The music you hear on the records is a result of each artist's approach using this fixed modular system. The main inspiration for my two piece was derived from the early works of Morton Subotnick. I can remember listening to Morton's "Until Spring" and "Wild Bull" records thinking how amazing the timbres and gestures where. I loved the unusual places these pieces took me. I loved the way everything sounded so organic and rich but at the same time synthesized. I also loved how these works almost told a story in that it conjured up so many interesting spaces and images in my mind. The "Creature" series is in a way paying homage to those works. I recorded 26 different version of the Creature II track here before I got the right one.
Any artists, producers, or academic computer music projects you are really excited about these days?
I always try to keep an open ear out for new producers and music. Some of my favorites recently have been Grischa Lichtenberger's new album on Raster Noton called "And IV (Inertia)". The amazingly well structured minimal sonic glitch on this record has made this release one of my all time favorites. I have also been really been into Rashad Becker's Traditional Music of Notional Species Vol I album. Rashad is a mastering and cutting engineer at Dubplates & Mastering (Berlin, Germany). He cut and mastered my last 2 albums, a true scientist of sound. I love the focus on analog-only sound sources of his most recent release. Another artist I have been listening to is "The Haxan Cloak", with his new album "Excavation" on Triangle Records. It's a wonderful dark moody journey, with many intriguing moments, one of my favorite new artists to come out in the last two years. I have been recently studying Curtis Roads music again, been a long time fan of his works. I love the opening track "Now", from "Point Line Cloud". I have always been fascinated by Curtis's works. His philosophy and approach to sound is so inspiring. I have drawn much from his writings and research. I am going out to UCSD in November to meet up Curtis and perform at the university really looking forward to that.
What hardware, OS, and host application(s) are you using with our software?
I am running the latest Mac OS Mountain Lion 10.8.4, with Logic X.
Reverb
How important is having access to a quality reverb to your work and production style?
I consider it to be an essential tool as I use reverb almost every day here for all my projects. It's very important to me as I use reverb sometimes to smear out the frequencies of a sound. Sometimes I will use them to make drones out of sounds. Other times I use them to create sound effect swells when reversing them. I like to use reverbs in really creative ways to get new sounds. In my sound design projects I use convolution reverbs all the time to process dialog and sound effects that are in specific spaces and environments. I have created hundreds of my own impulse responses that I have collected over the years working on various video game and TV projects.
What are some of your favorite hardware reverbs that you have used throughout your long career? Do you still use any of these?
My favorite hardware reverbs are definitely from my Lexicon PCM 92, and Eventide H8000FW units. I love the detail and presences these two units offer. I use the Eventide H8000 and Eclipse on a lot of my projects even today. I have a host of different microphones and keyboards running into a digital console (Yamaha DM2000VCM) that is setup with my hardware SFX racks. I also like using the TC electronics Fireworx that I generally like to use for reverse delays and other strange effects. They are running via digital light pipe with my RME UFX sound card here. I have been a long time fan of the Eventide products, and have worked doing presets and design for them over the last 5 years.
Any general tips for younger producers on effective reverb use or secret recipes you care to share?
Like I mentioned above, I like to use reverb in really creative ways to sometimes mask out frequencies of a sound. Sometimes I like to engulf the sound in reverb and turn it into a drone. I like using lots of automation with reverb plug-ins. I love automating things like the reverb size, decay, and shifting the pre-delay out to get pre-reversed-like effects. It's really neat on synths and impact sounds. I like automating strange wave shapes to these parameters, jagged, irregular shapes almost random at times. You can really hear how to creatively envelope or freeze certain frequencies of a sound by using a reverb in this way.
How often do you destructively print reverb to tracks, and then apply further sound-design transformations to the wet source sound?
I print reverbs to tracks all the time. What I like to do in a lot of my sessions is have several channels that have different reverb effects loaded up. I sometimes stack different reverb plug-ins to achieve a certain sound. I will then copy some of those sounds to that channel and re-bounce those sounds in that channel. Then importing them back into the session to hear they will sound with everything else in the mix.
B2
What do you find most unique or inspiring about B2 as compared to other competitive products?
I love that it's a dual engine design and that each engine can have completely independent settings and even that is reconfigurable. It's setup sort of like a modular synth in that you can route how the spaces will work with each other. Another amazing thing is that the B2 can be completely non-linear and you can shape the delay lines into anything you want. That is just incredible as you can really craft the way the decay is shaping around the reverb. Depending on your settings you can make the decays sound glitchy, broken, or open and lush.
Do you tend to use B2 for extreme FX oriented presets, or more subtle and traditional reverb needs, or both?
I would say that I use the B2 more for making really interesting spatial effects to my sounds. I particularly love the Granular category and adding in the particle like delay line sounds. Experimenting with the Mod depth and rate while setting just a few delay lines and randomizing those gets such wild effects. One of my favorite tricks to do with 2C is take only one engine and set the size rate to something really low like 1.79. Then set the delay time to something really short like 0.32 then set all the geometry knobs down to 0 percent. Then set the density to around 67 percent, and the diffuse setting to 61 percent. Then set your Mod Depth and Rate knobs both to zero, and then set your EQ to about 56 percent. I then will automate the "Size" knob control to get really cool Karplus-Strong string delay type sounds. Another cool thing is to set the geometry to the random setting and then modulate or automate the random knob. It works awesome on voices and drum loops. Here is a short example of this on Vine.
How many instances per project do you typically use?
I tend to use about 4 to 5 instances per session all loaded with a specific setting to quick dump a sound in that channel to preview what the sound will be like. I usually will setup some smaller room like effects on the first two channels, then two channels of bigger halls and rooms, then a 5th channel that will run a unusual effect.
What kind of source sounds do you usually use with B2?
I like to use B2 with mainly sound effects. I have done some really great stuff with weapons, impacts, swooshes, and other SFX. It colors the sound so nicely, and the level of detail is just astonishing.
Do you find yourself designing your own presets on a regular basis?
I like to use a combination of both in house presets and a bit of my own. There is such a great collection of presets that come with B2, that even if you never made your own presets you can find something that will fit your needs. I have made about 20 that I like to use for my personal projects.
Could you name some of your works in which you have actively used B2?
B2 was one of the main reverbs I used on the title track "Plonked Spectral" from the album RISP. Here is a link to listen to it. I had 4 instances of B2 running in this sessions, mostly to add some depth and space to some of the DSP splashes and sound effects.
Aether
What do you find most unique or inspiring about Aether as compared to other competitive products?
Aether was one of the first 2CAudio products I used. I love the interface, it's so easy to navigate and the quality of results is amazing. It's great for dialing in a specific space really quickly. The browser window and super extensive library of presets make this a must have reverb for anyone.
Do you tend to use Aether for extreme FX oriented presets, or more subtle and traditional reverb needs, or both?
I was using the Aether reverb mainly as my main spatial reverb for all my tracks. I was previous using the Waves TrueVerb and IR-1, but after hearing Aether I started replacing them with Aether. I like Aether the most because you can hear more detail in the tails and decay. I am really picky about this, and how sounds are processed. I find that with other reverbs you just hear the dry signal then the reverb mix, and they almost sound separated in a way. It's hard to explain. With Aether you really hear the fine macro detail of the effect and it really sounds as if you're hearing it in this space. It's more convincing to my ears especially when comparing to other virtual plug-in reverbs.
How many instances per project do you typically use?
I would typically run about 2 to 3 instances per session. I would typically like to have one small room effect and one large one. I like to have sounds happening in two different environments to add even more variety and contrast to the sounds. I will sometimes run a third instance for some strange otherworldly granular/modulated effect.
What kind of source sounds do you usually use with Aether?
I like running pads, swooshes, rises and sound effects with Aether. The detail is good with it, that you could run almost anything through it and it will sound great. :-)
Do you find yourself designing your own presets on a regular basis?
I have made a dozen or so presets with Aether, about 6 small room style effects, and then 6 large/Granular like verbs that I love using for instrument splashes.
Could you name some of your works in which you have actively used Aether?
I have used Aether on almost everything I have released. It's been in almost every mix since I have gotten it. It's so useful, and I have saved it into my logic templates so it always gets loaded up every time with my sessions. Like I said before it is mainly because the GUI is so well thought out. Everything you want to tweak is right there in front of you and the sound quality is so detailed.
2CAudio In The Mix: Richard Devine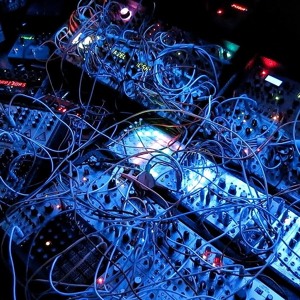 Link to the video captured here in real-time: https://vimeo.com/150015591 Patch Notes: This was a patch experiment using the new Mutable Instruments Rings/Clouds Modules, and trying to create strumming/plucking guitar like sounds within a patch. The inspiration came from playing around with the Clouds Parasites 1.3 alternate firmware running in the Resonator mode highlighting the "scatter" (or strum) function. The master clock was the Tiptop Circadian Rhythms module, taking the first 4 outputs into my Nord Drum 2 for the Kick, snare, closed and open hi-hats. From there the clock output from the CR was multiplied and then sent to the Modcan Touch Sequencer. First row output from the TS was sent to the intellijel Shapeshifter creating a two note baseline sequence that comes in at 1:58. The second sequence Row2 output from the TS was sent to the "ALM Akemie's Castle" module OSC A output using the chord function, that comes in at 25 seconds. The gates from the modcan where set to a 16th's pulse sequence. Modulation from the synthesis technology E102 Quad Temporal Shifter output 1 modulating the Multiplier input on Operator 1. The 2, 3 and 4 outputs from the E102 where also modulating the Operator 2, 3, and 4 inputs on the Akemie's Castle. This was creating the harmonic timbre changing as the sequence was playing. The slowly evolving sweeping noise textures that come in at 1:09 is from the Music Thing Radio Music module. The sample was a white noise sampled lightly filtered and then sent to the intellijel HexVCA with the amplitude CV control via a Intellijel Dixie modulating from slow to high rates (free running). The Make Noise Rene was being externally clocked from the Circadian Rhythm, and was sending out a quantized output to the Mutable Instruments Clouds pitch input creating the chord guitar sequence. The strum sounds on Clouds was played by the 4ms QCD running in 32th division output into the Trigger input. The freeze input was also triggered by a Ladik R-110 Random clock module. The combination of the two created the trill chord like strums. The bass guitar tone sound that comes in at 1:24 are from the MakeNoise Mysteron, that is being sequenced by the Modcan Touch Sequencer, Row Output 3 was programmed in the same key but a lower octave. The "Rings" module was creating slow attack soft high pitched chords in reverb that come around 2:50. There was additional processing of the Clouds output that was sent into the Tiptop ZDSP module running the "Halls of Vahalla" card program 8 "Ginnungagap" creating the high pitch octave deep reverb shimmer effects. The harmonic slow swells that come in at 3:30 where created using another intellijel Dixie oscillator sine output running into an Strymon "Big Sky" pedal being harmonically controlled by an intellijel µScale V1. The output was being played slowly then processed using the "Choral" mode, creating the slow shimmer swells. The entire mix was sent into the Eventide Space pedal using the "Corridors" patch. Mutable Instruments Rings : mutable-instruments.net/modules/rings Clouds Parasites firmware: mqtthiqs.github.io/parasites/clouds.html
Strum - Modular Patch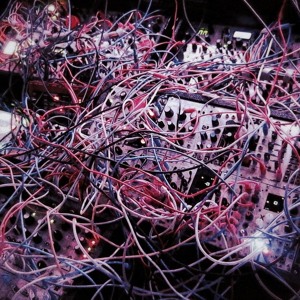 Link to the video of the patch, recorded in one take here: https://vimeo.com/139872178 download the free wave file :-) Patch experiment using the Noise Engineering Variatic Erumption x 2, and Minigorille CV graphic modules x 2. Clock output from the Tiptop Circadian Rhythms into the CV Graphic input 1, left side (purple). Then another output from the TipTop CR taken to the right side (siliver) CV Graphic module. Output 4 from the Tiptop CR sent to the left side Variatic Erumption (ext gate to the hit jack input) which would send very slow burst of random gates. The CV Graphic CV output (PONG sequencer mode 2) A and B would output bouncing ball like CV voltages to the Variatic Erumption CV Pattern, and Time/Division input. This created some very organic scattered sequencing taking one output that was triggering a Snazzy Fx Ardcore running custom frac drums patch. The other output was running into a trigger input on the Mutable instruments clouds, which is causing the light granular scattering in between the beats. Another output from the V.E. running into the Noise Engineering Basimilus Iteritas, for the FM pluck like percussion sound. Next output from VE running into a 4ms RCD, random triggering spaced out burst to the clock input. From here, the output was taken (4)out to the MakeNoise Optomix set slightly open, which was running a ALM's new "Akemie's Castle" dual voltage controlled oscillator, running out the chord output (OSC A). From the Akemie's Castle the output is going into a Tiptop Z-DSP processed with the The Halls of Valhalla card running program 7 (Asgard). Mult output also taken to the Strymon Big Sky pedal running in "Chorale" mode mix completely wet for delicate melodic swells. Making the rich choral timbres. Another gate output from the Noise Engineering V.E. running into the Mutable Instruments (mystery) module. Output from here sent to the Qu-Bit RT-60 effect module, which is also being triggered (for effects program change) via by the 5 division output from the 4ms Rotating Clock Divider. Kick drum created using the MakeNoise telHarmonic module, running into a Optomix. Snare and hi-hat sounds courtesy of two Ladik D-333 Rom players. One running the Snares card, and another running hi-hats. Both outputs being summed into the Synthrotek DLY module. The delay input being modulated by a modcan QuadLFO output 1 slow S&H. First sequenced notes via the Mutable instruments Braids running the new "HARM" additive harmonics mode. The quantization was set to "Oinian". Second Braids for other harmony running the "OPSK" smooth sine like melody, VCA mode set to on, with short decay for pluck like quality. Signal for both braids are being sent to another Qu-Bit RT-60 running program number 1-Reverb. Quantization set to "Oinian". Bassline sound created with a Intellijel Shapeshifter output 1, then being run into intellijel uVCF filter in LPF input, then the signal goes out a Qu-Bit RT-60 in program 1 Reverb.
Ascension - Modular Patch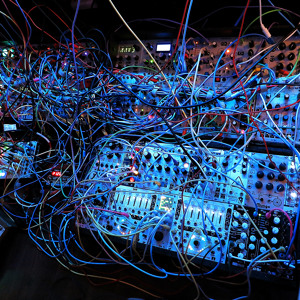 Link to the video of the patch, recorded in one take here: https://vimeo.com/136165676 download to the .wav file :-) Patch Notes: Harmonic patch using the new MakeNoise tELHARMONIC is a Multi-Voice, Multi-Algorithm synthesizer, and 4ms Spectral Multiband Resonator. The master clock is the Tiptop Circadian Rhythms. Clock output running into the Modcan Touch Sequencer. Channel output one running into one intellijel Dixie (V1) for the bassline. Dixie output running into a Mutable instruments Ripples filter (LP4), triangle waveform. Second channel output sequencing quantized 8 note sequence to the telharmonic oscillator, creating the first lead sequence in the patch (major scale set). One Mult output taken and sent to the Strymon BigSky reverb pedal to create the delicate swarm pads that rise in and out at the builds. Amplitude control of the slow rises via the intellijel HexVCA, slow rate control from one Modcan Quad LFO. The other output is then taken and sent to the Qu-bit RT-60 reverb. Third output from the Modcan TS sending quantized CV to the MakeNoise STO oscillator variable SHAPE output then sent through lower section of the MakeNoise Optomix. The forth output from the Modcan TS is sending a 4 chord pattern (min9) to the intellijel shapeshifter module in chord mode. This output is then sent to another Qu-Bit RT-60 reverb algorithm. MakeNoise Mysteron plucking guitar like effect being triggered by a 4ms RCD, 5th trigger out. The Mysterson then is running out into a Strymon BlueSky pedal, reverb. Drum sequencing from TipTop CR, channel one kick drum going to the Nord Drum 2. Second channel number 2 triggering a custom snare drum made on the Nord Drum 2. Channel 6 from the CR triggering a low bass drum, in the key of "C". Clock output from CR into the 4ms SCM being rotated by a intellijel dixie sine wave output running at a slow rate shifting the 16th's hi hat pattern. Noise source for hi-hats are the SSF quantum rainbow 2, purple output running into the MakeNoise Optomix. The high end snare clap sound is by the Synthrotek's DS-M drum module, then being lightly processed by the Synthrotek DLY, slowly CV controlled by a Modcan Quad LFO in random mode creating more glitchy effects. This is then being sequenced by channel number 2 from the tiptop CR. The first lower left side 4ms Spectral Multi-band Resonator processing 72 custom DSP samples, which are being played by one addac wave player. The output is then being sent to a intellijel uVCF filter (hi pass), for the light subtle glitch textures. The second 4ms Spectral Multi-band Resonator, processing another set of 32 samples (noise washes/slow rises/falls) via channel number 4 from the CR tiptop. From here the output is being processed by a Mutable Instruments Clouds (granular mode), being controlled by the Pittsburgh Modular Game System running "Meteor Shower" mode in which the explosion based gates and random control voltages are then being sent to 3rd Dixie, controlling the CV rate time then from there its sent to the "Freeze" input on clouds, processing small bits of audio coming from the second addac waveplayer, The second output coming from the gamesystem is going into the "position" input on Clouds, which is doing some additional glitching to the signal.Main output from a intellijel Mutagen mixer then ran through the Eventide space pedal for extra spatial atmosphere. :-)
Harmonic Symmetry - Modular Patch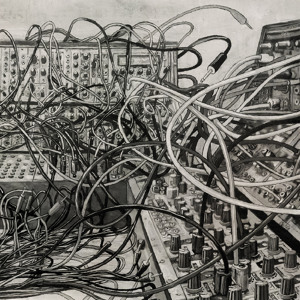 Tiptop Audio is proud to introduce a new project for 2015: Tiptop Audio Records. In the recent years musical productions have seen a remarkable return to the use of hardware through analog synthesizers and digital control interfaces. This trend has proven so strong that it prompted a rebirth of modular synths in a new format (eurorack). Tiptop Audio has made a name producing sophisticated but easy to use modules, designed to form a complete system that is especially effective for dance-oriented productions and live sets. Tiptop Audio Records selected for its first issue some of the most groundbreaking artists using such systems, to present a range of artists who, through their tracks, explore the landscape of dance music in a very fresh perspective. These are the artists who inspire the Tiptop team to make more innovative devices, which in turn make new music (a nice feedback loop). ANGLE, BLAWAN, CHRISTIAN BURKHARDT JOAO CESER, JOHN TEJADA, JOSEPH FRAIOLI, MOE ESPINOSA (DRUMCELL), KINK, RICHARD DEVINE and SURGEON each contribute a track stamped with their own style and vision. Tracks range from Surgeon's trademark hard minimal beat, to Kink's gauzy dreamscape, while Richard Devine and Joseph Fraioli explore the outer reaches of beat based music. The Phase VI team (John Tejada and Moe Espinosa AKA Drumcell) produces an endlessly shifting set of percolating rhythms, Christian Burkhardt and Joao Ceser put some 21st century twists on classic dance floor patterns, ANGLE lay down effortless, sophisticated Continental style and Blawan adds some industrial toned menace. The release will initially come as a double vinyl edition, with a cover painted by the artist Matteo Giampaglia, and a digital download version will follow. An original video teaser will introduce the compilation, then other videoclips of the individual tracks will be realized by exciting new visual artists.
9 RICHARD DEVINE - CR HEX MUTANT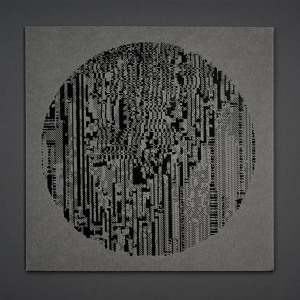 Just released today my remix of bossFYTE on DETROIT UNDERGROUND Lil' Dog Toes / Think About It ( Richard Devine Remix) DETROIT UNDERGROUND 7-inch by bossFYTE. Order Here: https://bossfyte.bandcamp.com/track/think-about-it-devine-remix-2
BossFYTE - Think About It ( Richard Devine Remix)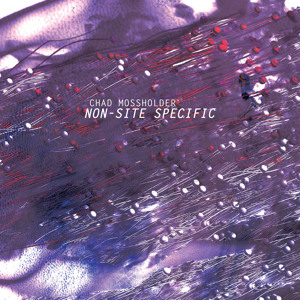 Remix of track 11 on Chad Mossholder's new debut solo album "Non-Site Specific on on Artificial Music Machine, released Dec 16th 2014 First remix using my eurorack modular system. link to buy the album (both streaming and downloadable): https://artificialmusicmachine.bandcamp.com/album/non-site-specific info: As an extra special bonus track commissioned for this album, sonic wizard Richard Devine (Schematic, Make Noise, Warp Records) has created a complex aleatoric recombinant masterpiece out of a thousand exploded fragments of "Illuminated" using his massive modular synthesizer, a huge ever growing pulsating brain that rules from the center of his studio near Atlanta!
Illuminated (Richard Devine) Cylindrical Modular Mix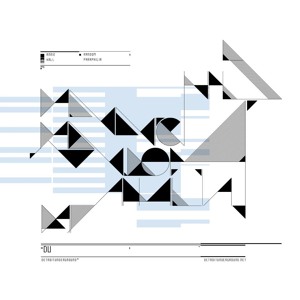 Remix for Annie Hall's "Bandit2893" track from the Random Paraphilia EP on Detroit Underground Records: DETUND 21 info at: http://detroitunderground.net/blog/2013/12/annie-hall-random-paraphilia-du21/ Link to buy the EP here : http://www.juno.co.uk/products/annie-hall-random-paraphilia/514243-01/ also at Deejay.de http://www.deejay.de/m_Beats/details__137675
Remix Annie Hall - Bandit2893"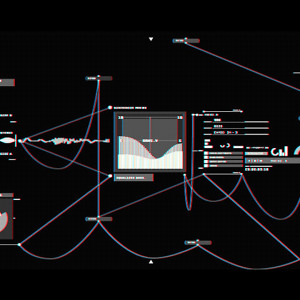 RISP is Richard Devine's algorithm-based exploration of generative time structures for analog synths. If you missed limited vinyl boarding pass worry not -- gain 3 additional original richard devine compositions plus five remixes by Loops Haunt, Vaetxh, Subjex, Valance Drakes & Balkansky with the release of RISP on CD. Expect to breathe air on distant planets as chaotic, broken machines speak harmonious mutant languages via RD's human/alien soundesign and audio activist remixes. Thirteen new tracks to become alien. Watch the video for Plonked Spectral here: http://vimeo.com/38752382 DU-16: CD info: detroitunderground.net/blog/2012/03/28/richard-devine-•-risp-•-cd/ RiSP-CD 1. PlonkedSpectral 2. ErkWerks 3. Oxin2lin 4. TipTopBD808 5. Varseop 6. Morro 7. Etch n Sketch 8. Plasmik 9. Vapor Wave Acid 10. York Capacitor 11. ReneAnalogueSeq 12. Plonked Spectral (Vaetxh oort cloud remix) 13. Oxin2lin (Valance Drakes Remix) 14. Plonked S.(Gordan-Loopshaunt-Remix) 15. Plonked S. (Subjex Remix) * 16. Plonked Spectral-(Balkansky Remix)* 17. Plonked S. (DrumCell Remix)* * exclusive for digi download. 14 songs Total Time: 1:09 - 700.5MB Links: Release info from Detroit Underground detroitunderground.net/blog/2011/11/08/richard-devine-risp-ep-du-16/ Valentin Rodriguez, Dmas3, dmas3.com Richard Devine: richard-devine.com
Plonked Spectral - From RiSP EP - CD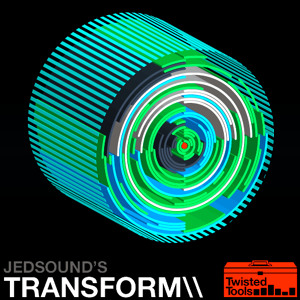 For the "Transform" trailer demo song I mixed a few of my favorite sounds from Jean-Edouard Miclot sound effects library new from Twisted Tools and tried to create a short slow piece that really showcased the versatility of some these sounds within the context of a musical composition. I also included a few additional sound effects and percussion sounds from my personal library that are also included in the release. Recorded/processed/mangled at 24-bit 96-khz... Link to buy the library here: http://twistedtools.com/shop/samplepacks/transform/ Devil's Droid / Transform - Licensing contact: Pitch Hammer (310) 709-2794
"Transform" Trailer -by Richard Devine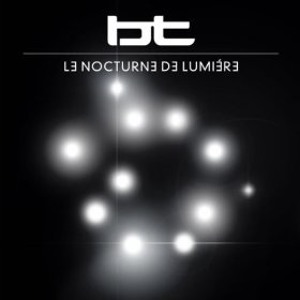 Remix of BT's "Le Nocturne De Lumière" track, released November 22, 2010 through ℗ 2010 Nettwerk Productions. Link to buy the high quality versions here: itunes: http://itunes.apple.com/us/album/id403178883 amazon: http://www.amazon.com/gp/product/B004CD17M6/ref=cm_sw_r_tw_dp_rM84mb1YWAKXB
BT's - Le Nocturne De Lumiere (Richard Devine Remix)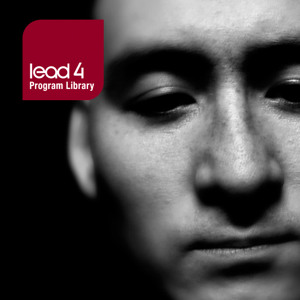 Sound demo by Richard Devine with sounds from his new sound bank for the Nord Lead 4/4R Performance Synthesizer. Multitrack recording. Download the Richard Devine Bank here: bit.ly/nl4programlibrary Read all about the Nord Lead 4 here: www.nordlead4.com
Devine NL4 Demo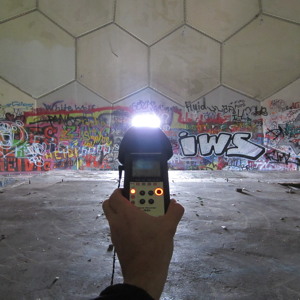 Sound recordings from "Teufelsberg" (German for Devil's Mountain) Listening station Berlin Germany. Short excerpts from the high tower dome trying to capture the most amazing spatial reverb echos from this most unusual structure.Various impacts, glass breaks, wooden clanks recorded at 24-bit 96kz with a Zoom H4N. Note: that some distant birds and wind can be heard through some of the recordings. This was due to some of the small holes in the ceiling structure, allowing some slight outside bleed. Link here to the history of this building below. http://en.wikipedia.org/wiki/Teufelsberg
Field Recordings from Teufelsberg Listening Station Berlin, Germany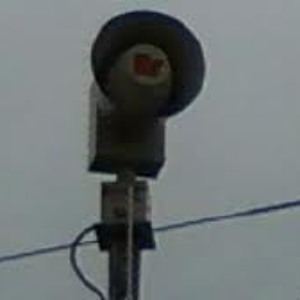 Recording of Tornado Sirens in the distance tonight in Atlanta GA. The sounds of the strong winds and rain can be heard moving through the trees creating for a eerie atmosphere. Short recording made with the Neumann RSM-191 A/S and Sound Devices 702 Digital Recorder at 24-bit 96khz. Recorded at Midnight April 27th 2011.
Eerie Recording of Tornado Sirens.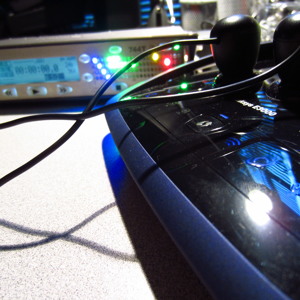 Recordings of various electrical devices (printers, scanners, Nintendo Wii, PlayStation, Mac-book hard drives, 5 different wireless modems, fax machines, iPhone, iPad, and computers. Recorded with two telephone recording microphones (induction coil) into a Sound Devices 744T recorder 24-bit 96khz. Note: The file download is now available in the original 24-bit 96khz format.
The Sound of Data Transmissions-Electromagnetic Fields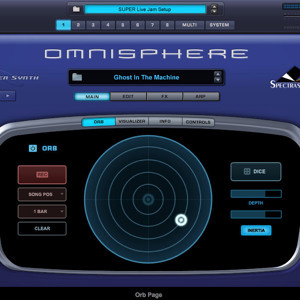 Short demo of 10 sounds I created for the new Spectrasonics "Moog Tribute Library". All created with Omnisphere. No post processing or other effects used. http://www.spectrasonics.net/products/tribute/index.php © 2011 Spectrasonics and Richard Devine
Galaxy Mesmer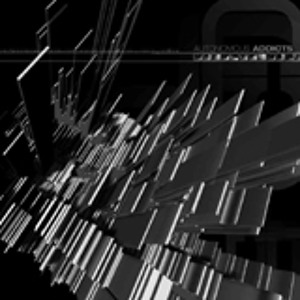 V/A - AUTONOMOUS ADDICTS - The Designed Disorder (001) Time: 5:51
- "Per-Cer"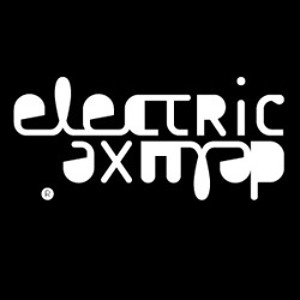 A Journey through some of my favorite Electroacoustic pieces. On Electric Deluxe Podcast 005. Pieces from Ake Parmerud, Trevor Wishart, Francis Dhomont, Denis Smalley, Curtis Roads, Horacio Vaggione, Natasha Barrett, Jonty Harrison, Francois Bayle, Pierre Henry, Bernard Parmegiani, Hugh Le Caine, Iannis Xenakis, Ekkehard Ehlers, Jean-Claude Risset, Morton Subotnick, Tod Dockstader, and Joseph Hyde.
Electric Deluxe Podcast 005 Richard Devine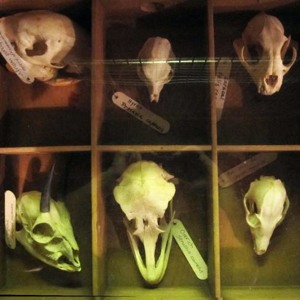 This track was composed for the "Curtis" (iphone/ipod/ipad) app by The Strange Agency. This piece is a Acousmatic composition based on everyday found objects. I recorded various wine glasses, gears, metal, motors, Ratchets, chimes, croaking frog scraper, Indian bells, Tibetan Singing Bowls, Santoor, waterphone, piano, hematite magnets, processed voice, underwater ambiances, computer, and sprinkled bits of Buchla 200e/Doepfer Euro rack Modular. All of the sounds originally captured at 24-bit 96khz with a Neumann RSM 191 A/S stereo shotgun mic, SMK4060 Stereo Matched 4060-BM Miniature Omnidirectional Microphones and Sound Devices 702 recorder. Download the wave in 16-bit 44.1khz wave:) Process and further granulate my piece with the"Curtis" app version 1.1 here on the itunes store. http://itunes.apple.com/us/app/curtis-for-ipad/id384228003?mt=8#
Objects Of Granularity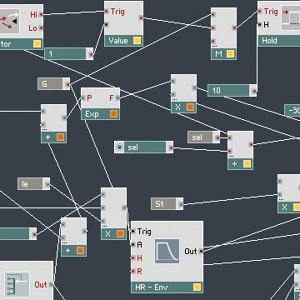 ⣿⠿⠛⠉⠉⠛⠿⣿⠿⠛⠉⠉⠛⠿⣿⠿⠛⠉⠉⠛⠿⣿⠿⠛⣿ ⣏⣹●⣏⣹●⣏⣹●⣏⣹ -made with Rⓔakt◎r, 20(O)1.
⣏●⣹Nav7-⣏●⣹⣏⣹⣏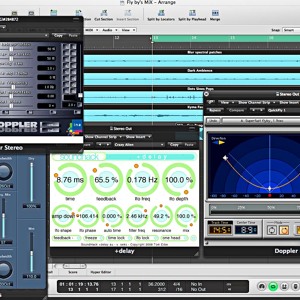 Pulse/Excerpt/Short Experiment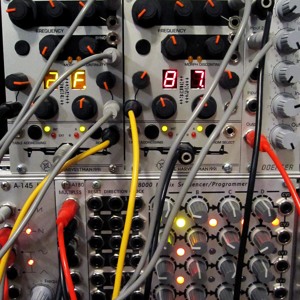 Recorded May 11, 2010 using only my Analogue Doepfer A-100 P9 case, with one pass. No post processing. Modules used, Tiptop Z-8000, Cwejman VM-1, Cwejman VCO-2RM, Harvestman Piston Honda,Harvestman Hertz Donut, Doepfer A-187 VCDSP. Doepfer A-145
York Capacitor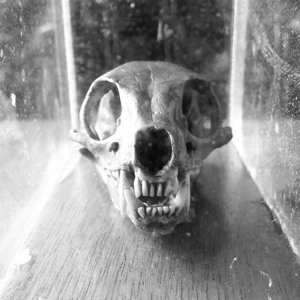 -warning-this piece can cause hearing damage, when played at loud volumes.
TL/A\S-I/L.A-Re-mix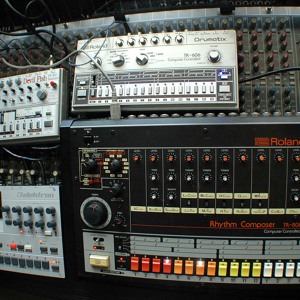 Various - Autonomous Addicts Label: The Designed Disorder Written and Produced in 2005 on my Trusty old TR-808 and TB-303. Classic slow Acid Electro track. For those late night travels home.
808IIRtrackfor RD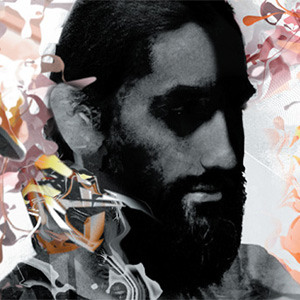 Taken and remixed from the Album: External Combustion, all sounds made from only a Bodhran Frame Drum.
Glen Velez Remix, External Combustion, interpretation.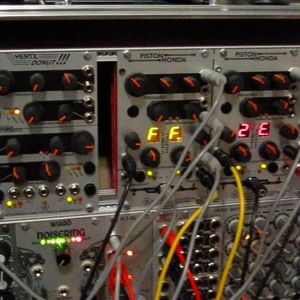 TR-808 with TB-303 running through a Harvestman malgorithm" Not really a song, just a experiment/jam, testing out the Harvestman CV input range. Fun little demo, my first post to SoundCloud. Richard Devine=)
808/303-into a Harvestman Malgorithm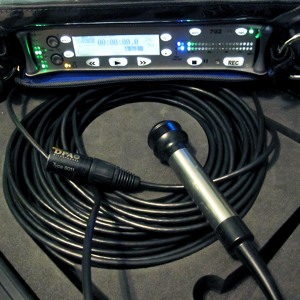 NOTE: This is not a song. Recorded on May 6th in Lake Lure North Carolina. All recordings taken from the lake, rivers, and dam of Lake Lure. Everything was recorded at 24-bit 96k with a Sound Devices 702 recorder and DPA-8011 Hydrophone. No editing or post processing. Recorded by Richard Devine and Josh Kay
Recordings from the DPA 8011 Underwater Omnidirectional Microphone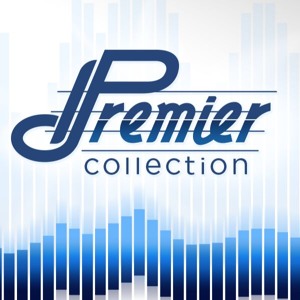 Spherical Space by Richard Devine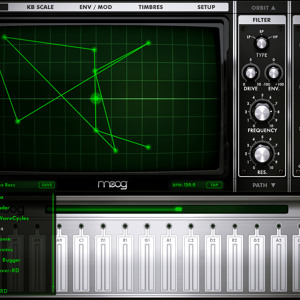 Alien Languages, is an experimental Acousmatic acoustic piece done entirely with just one iPad and Animoog. No plug-ins, editing, or extra sound sources were used for this recording. The demo track was to show how the sounds might be used for creating new sound effects, and electronic textures.
Alien Languages By Richard Devine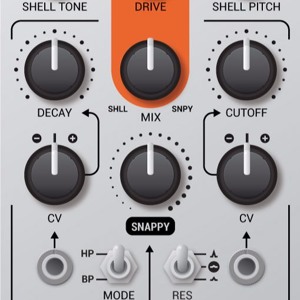 Richard Devine's demo of the Mutant Snare eurorack module (amongst others). He seems to have made good use of the external input to morph the Snare into something completely different! Find it on ModularGrid here! https://www.modulargrid.net/e/hexinverter-Electronique-mutant-snare His description of the patch: "I took 5 sources into the external input, and then multiplied the output and fed it back into it self so you get this really hi-fi feedback sound at times. Used the Low-Gain Electronics Short Bus V2, with 5 sources running in, then took the summed output back into the Snare to get these glitchy broken like sounds, then slowly opened the decay allowing for more of the external signal coming through and then I flipped the switches to turn on and off different effects. Sources: 1. Mungo d0 2. Warps running parasites program 7 delay/feedback 3. Z3000 modulation at low rates (amplitude modulation) audio cutting. 4. FMVDO running modulated high FM, mixed in by hand manually with a intellijel ATT 5. Digital Noise out from the Synthesis Tech e102 quad temporal shifter I multiplied the output and sent 4 sends to the HexVCA, one out to the Eventide Space, one to the intellijel Spring Ray, and one to Clouds for the granular delay stereo scatters. Being triggered by the Ladik Random R-110, for the long gate holds."
Devine's Mutant Snare Workout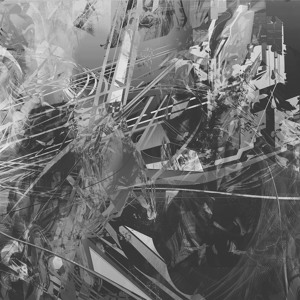 https://planetmu.bleepstores.com/release/107937-richard-devine-sortlave https://richarddevine.bandcamp.com/album/sort-lave http://smarturl.it/RDSortLave After a break of 6 years, Atlanta based electronic musician, producer and sound designer Richard Devine returns with a new album 'Sort\Lave' on Venetian Snares' Timesig imprint. Recorded between 2016 and 2017 using Richard's custom built Eurorack modular system and two Nord G2 Modular units, Sort\Lave features 12 tracks of intricate electronica that ranges from abrasive percussive experiments such as 'Revsic' to 'Astra's dazzling juxtaposition of sounds and onto the radiant ambience of the album's closer 'Takara'. Talking about the album's genesis Devine explains "I've been using modular synthesizers since I was 17, but have never written complete tracks using these newer systems. This was my first experiment to see if it would be possible and I probably spent about 5 years building up the systems that I used on this album." "I wanted the record to sound very different to my previous works which had been more cold, digital, clinical even, and had all been made using computers. The aim here was the complete opposite, to create something that felt very organic, detailed, spacious, big and warm and just as importantly, a record that you could put on and play all the way through that flowed in a seamless way." This new approach was to prove fruitful and enabled Devine to create music in an entirely new way. "I really wanted to break free from timeline-based music creation and do things with my hands on the fly," he explains. "So the tracks are more like captured snapshot performances where I could experiment and play around with the idea of probability-based sequencing for every patch, string multiple sequencers together that would feed other sequencers to come up with interesting rhythms and melodies. It was really fun coming up with new sounds this way too, I felt like I created several I haven't heard before with this album. Some of the tracks on the album were complete accidents and evolved from something that happened spontaneously. In the end I feel this is one of the best records I have released to date, so I'm very excited to share it with the world." Making his debut in 1995, Devine's releases for labels including Schematic, Warp Records and Detroit Underground have established him as one of the leading figures within the electronica community. In addition to his musical productions, Devine has enjoyed a lengthy and successful career in sound design, developing patches for many of the world's leading music technology businesses and working with companies such as Google and Nike.
- Opaque Ke (TIMESIG009)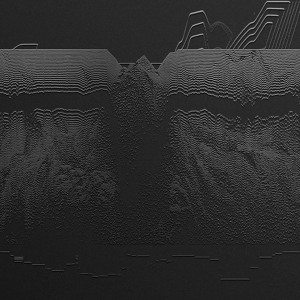 Pre-order is open and the first track preview of my new EP Systik is now live! https://richarddevine.bandcamp.com/ BL_K Noise is proud to announce that Richard Devine - Systik will be released November 11 with pre-orders starting today. Systik is comprised of four acid tracks produced, performed live, and mastered by Richard, not originally intended to be released. Richard debuted his acid set at BL_K Noise in Los Angeles in January 2020 with the original goal of crafting and performing it throughout the rest of the year - but, as we all know, this year had different plans for us. Sinscur, the ever-evolving fractured acid track is available to stream and download on Bandcamp now. Richard Devine's influences, inspiration, and roots come from many sources - and this release is a homage paid to classic acid albums that inspired him in his early career but with a more modern approach and arsenal. Every purchase in the pre-order period is entered to win a set of HEDDphones by Hedd (Heinz Electrodynamic Designs) valued at $1,899. A winner will be announced on November 11th. The artwork and all visual assets were created by Simona Noreik. The physical presentation was under the guidance of BL_K Noise. blknoise.bandcamp.com hedd.audio/heddphone/
- Sinscur